My name is Panagiotis Linakis (or Panos for short). I was born in Thessaloniki, Greece in 1985.
I am a harpsichordist, pianist, organist, improviser, music theorist and composer.
From 2020 until April 2021 I taught Music Theory as Lecturer at the University of Music Freiburg (D)
and from 2014 until October 2019 Harpsichord and Basso continuo as Lecturer at the University of Music and Performing Arts Frankfurt am Main. Since 2015 I have also been lecturing on "Historical Improvisation", which I integrated into the regular curriculum, initially as a pilot project, but now the subject is firmly established as part of the course. 
From September 2015 to February 2019 I also worked as Lecturer (acting as replacement for Martin Erhardt and Jostein Gundersen) for Historical Improvisation at the University of Music "Felix Mendelssohn Bartholdy" in Leipzig, where I held numerous courses and seminars. 
Since the beginning of 2019 I have been working as a teacher for harpsichord and piano at the Music School "Musikschule Region Thun" in Switzerland and since 2021 as a teacher for piano at the Music School Aaretal.  
In addition, I am a guest lecturer at the Summer Academy for Early Music in Arnaia, Greece, where I focus especially on young talented musicians, either as harpsichordists or in ensembles. 
I regularly give lectures and courses about the teaching of historical music theory, composition and improvisation as well as various aspects of historical performance practice and harpsichord playing. 
Out of personal pedagogical interest, from 2013 to the beginning of 2015 I began focusing more on today's mediation of historical improvisation practice. In this context I wrote a research paper which was funded (amongst others) by the "Landesgraduiertenstipendium Baden-Württemberg". As part of my master's degree in music theory with Prof. Dr. Ludwig Holtmeier at the Musikhochschule Freiburg im Breisgau I also dealt mainly with this topic. As it combines theory and practice like no other, it is highly interesting and relevant to the holistic education of a contemporary musician. 
The written works as well as numerous exercises and thoughts resulting from this pursuit can be found here on the website (mainly in German, but English translations are in progress!).  
In addition to these interests, I am also active as a composer. 
In the summer of 2018 in collaboration with Prof. Michael Schneider, I edited different movements from "L'incoronazione di Poppea" by Claudio Monteverdi for larger ensemble. These were successfully premiered at the Baroque Nights of the Musikhochschule Frankfurt in 2018 under Michael Schneider. 
Another project was the new edition / composing of the basso continuo part of the recorder sonatas of G. F. Handel based on current knowledge about historical perfomance practice (flute variations by Prof. Michael Schneider). 
(Edition Walhall, 2019, linked under "Projects / Publications") 
In addition to various compositions for one or two keyboard instruments, I have transcribed various solo pieces for harpsichord, including the Partita for Flute in A Minor BWV 1013 by J. S. Bach, also together with Prof. Michael Schneider. 
(planned release date 2020) 
From 2012 - 2015 I worked as a teacher for piano, organ and keyboard at the Primtalmusikschule Spaichingen, where I worked intensively with children and adolescents.
"Mr. Linaki's technical skills at the harpsichord are simply breathtaking - in addition to his unusually wide range of sounds on this instrument, he has an incredible virtuosity that is virtually unbeatable; musically he convinces with a maturity that only a few ever reach.
 One of the best harpsichordists of the new generation.
In addition, an exceptional pedagogical talent - profound, multi-layered, compelling, innovative and extraordinary "
  Prof. Tobias Lindner, fhnw / Schola Cantorum Basiliensis
Lecture: "Introduction to stylistically informed (baroque) Improvisation on keyboard instruments based on the Baroque Passacaglia"
 University of Music Freiburg 2018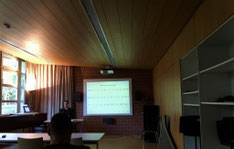 Harpsichordist - Organist - Continuist
In addition to a wonderful, interesting journey over learning seven instruments, I decided early in my life to dericate myself to the harpsichord.
The overtone-rich, blooming, tender sound as well as the fascinating repertoire for this instrument from the golden age of music history have captivated me from the beginning on.
The wide range of national styles and instrument types (including all historical keyboard instruments) as well as performance-related aspects offer a wide field of work and call for a particularly complex and comprehensive approach that has always inspired, challenged and fulfilled me.
Above all, I try to explore the instrumental range of expression on the harpsichord through brilliance of the technique (speed, phrasing, articulation) and the widest possible range of sound nuances through a specially differentiated technique.
When working in ensembles and with choirs and orchestras, I focus especially to a stylistically differentiated basso continuo and a maximum of sound-technical, stylistic and musical support of the playing partners - be it on the harpsichord or the organ.
My international concert activities have taken me to many European countries and include collaborations with renowned ensembles, orchestras, conductors, singers and instrumentalists, ao. the Luzerner Sinfonieorchester, the Mädchenchor Hannover, the Concerto Ellenico, O. Mustonen, F. Say, H. Rilling, M. E. Cenčić and A. Steck.
In 2013, together with fortepianist Anne-Sophie Noeske, I founded the duo "Gemischtes Doppel", in which we devote ourselves to music in the gallant and classical style, but also play own arrangements and improvisations on two historic keyboard instruments.
In addition to dealing with music from the Baroque period, I also deal with music and performance practice of the classical and romantic aera(on the piano and fortepiano) up to modern music (including premieres of Greek composers at the Parnassus Hall, Athens 2014) and concerts in which I perform my own improvisations and compositions.
"Panos is an exceptional and versatile musician who combines stupendous harpsichord virtuosity with tasteful and profound interpretive approaches, moves freely and confidently in the field of historically oriented composition and improvisation and is extremely creative in developing his own didactic concepts and exercises which he can also convey very clever and convincing. It is a pleasure to experience and collaborate with Panos as a musician or teacher. "
 Prof. Jörg-Andreas Boetticher, Schola Cantorum Basiliensis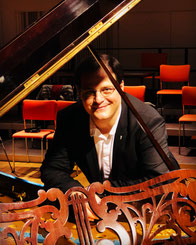 Photo: Anne-Sophie Noeske
Even as a teenager, music played a big role in my life.
I went to the musical Lyceum Thessaloniki, attended the Neon Conservatory and the Musical College Thessaloniki, where I had lessons in piano, accordion, counterpoint, harmony, solfège, dictation and music history as well as Byzantine music and folk music. 
In addition I have learned other instruments, some self-taught.
At the same time, I took harpsichord lessons from Markellos Chryssicos at the Patra Municipal Conservatory.
After my graduation I studied harpsichord and music theory in Hannover (hMtMh),
Basel (Schola Cantorum Basiliensis) and Freiburg (University of Music).
My main subject teachers included Prof. Jesper B. Christensen, Prof. Jörg-Andreas Bötticher, Prof. Dr. Zvi Meniker, Prof. Dr. Robert Hill, Prof. Takashi Watanabe, Prof. Tomasz Herbut and Prof. Dr. Ludwig Holtmeier.
I have also received important Inspirations at numerous master classes,
et al with Prof. Dr. Robert Levin, Prof. Malcolm Bilson, Prof. Dr. Ton Koopman, Prof. Christian Rieger, Prof. Harald Vogel, Prof. Paul Badura-Skoda and Prof. George Hatzinikos.
During my studies I also received important input from Prof. Rudolf Lutz,
Prof. Markus Schwenkreis, Prof. Nicola Cumer, Prof. Tobias Lindner, Univ.-Prof. Carsten Lorenz, Prof. Bernward Lohr, Prof. Dr. Johannes Menke, Prof. Dr. Felix Diergarten and Prof. Otfried Büsing.
"Panagiotis Linakis is a tremendously accomplished improviser at the harpsichord with an impressive background knowledge and it's always a pleasure to listen to him!"
Univ. Carsten Lorenz
MUK - Music and Art Private University of Vienna / Department of Early Music

Photo:  Anne-Sophie Noeske